Published on 31/10/18  – studytravel.network
Trends from the Spanish outbound market, association growth and collaboration, and the UK as a study destination were all themes at the largest-ever annual workshop held by Spanish agency association ASEPROCE last week.
Held in Madrid, the workshop welcomed representatives from around 50 agencies – including a delegation from Italian agency association IALCA  – and 50 schools, as well exhibitors, dignitaries and other delegates for a brief presentation programme, a day of scheduled meetings and networking.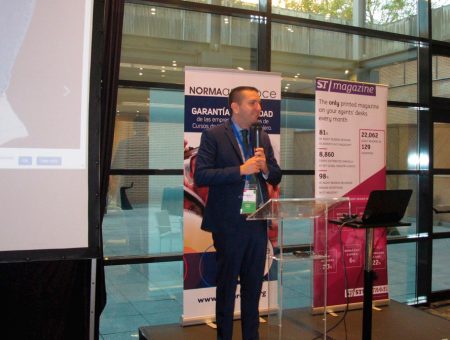 Speaking to StudyTravel Magazine about trends in the Spanish outbound market, Oscar Porras , President of ASEPROCE, highlighted mini-stays and programmes in Canada as areas of market development.
"I would say that there has been an increase of the mini-stay programmes which continues the growth for the last few years. We have also noticed a huge increase in Canada as a destination for both juniors and high school programmes."
He added, "Regarding adults, which used to be a sector mainly in summer, we are also noticing more adults travelling in winter for long-term courses between three and six months."
Matthew Knott, News Editor of StudyTravel Magazine, gave a special presentation on the Spanish market using surveys conducted by the magazine, including the Global Market Report on the worldwide ELT industry, the annual Global Agency survey, and regular Market Analysis surveys of language schools.
He showed that the growth rate in language programmes in 2017 for the 15 Spain-based contributors to the Global Agency Survey was higher than the overall growth rate of 13.6 per cent among all 274 agencies worldwide. However, he showed that Spanish agents were much more reliant on the language sector (95 per cent of business), compared with the global ratio of 74 per cent.
He also gave a preview of changes in global market share of the ELT industry by student numbers and weeks in 2017 from the forthcoming Global Market Report, to be published in the December 2018 issue and incorporating the Philippines and Cyprus for the first time.
Commenting on issues affecting the sector, Oscar said that there were fears that the political situation in Cataluña would impact on demand. He explained that although the first three months of the year were slow, numbers there recovered to normal levels as 2018 continued.
Referring to the association's activities, Oscar said that ASEPROCE had grown to 55 members and that they were aiming for 60 within the next two years. "We want to get new agents but only those who accomplish our quality scheme. We do regular meetings to inform agencies about our association, but sadly some of them don't follow the legal requirements or can't follow our quality scheme so it is not always easy to get new agencies."
The 2018 event was the largest ASEPROCE Workshop to date, and Oscar commented, "Our agents love it! It is very convenient for them because they can bring their staff to meet the schools and it is very cost effective for them. The schools have also given an excellent feedback about the event and bringing our IALCA friends has been excellent. We don't want to make it grow too much and the size is now perfect. We are thinking about new ideas for the next ASEPROCE workshop which will make it even more attractive for both schools and agents."